Released: 23.02.18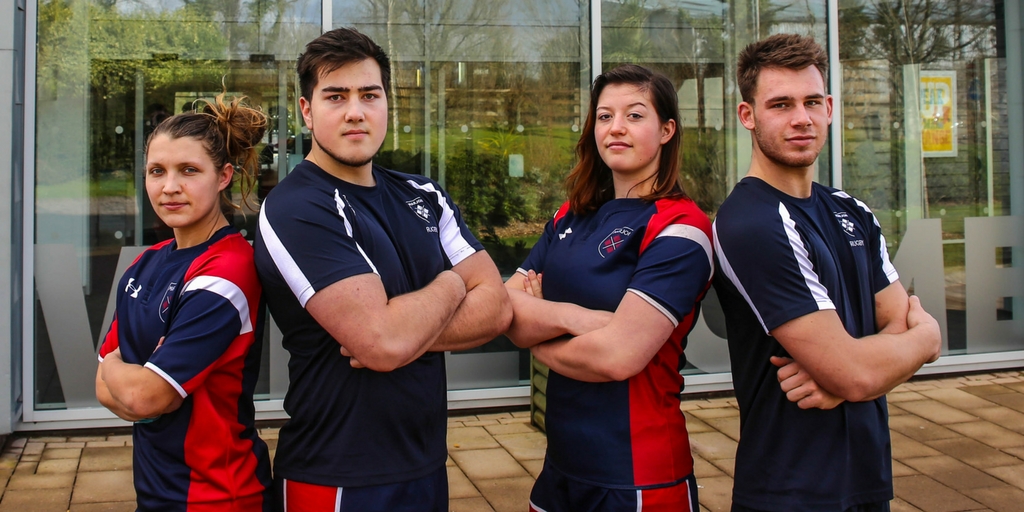 Monday 19 February saw hosts Plymouth Albion kick start the annual rugby varsity games between Marjon and the University of Plymouth. The varsity games offer much more than bragging rights, with all money raised being donated to the university's chosen charities; English Federation of Disability Sport and Mario Curtis Foundation.
In front of a spectacular crowd, Marjon ladies used their power to control the game, looking especially dominant in the opening minutes. Five minutes in, notoriously dangerous full back, Molly Hann, took the ball in her own half showing her raw speed and power. She carefully weaved and crafted her run through Plymouth's defence, bursting through unscathed to score the try. Ellie Jeffries added the extras, converting the try, much to the dismay of the whistling Plymouth students. The game ebbed and flowed, with both sides looking confident with ball in hand attacking the space. However, it was Marjon who struck again, this time through Vice Captain Kathryn Starks. Despite her previous accuracy, Jeffries was unable to add the extras and the game approached half time at 12-0 to Marjon. On the stroke of half time, Jeffries received a yellow card for foul play, forcing Marjon to play with fourteen for the first ten minutes of the next half.
Capitalising on this, Plymouth University repeatedly attacked the fringes, sending the ball wide and into space. Despite a valiant defensive effort, a player down took its toll and Plymouth were able to rumble forward and over the line through a maul. They were unable to convert the try and game remained tentative at 12-5, with just one try separating the teams. Another error from Marjon meant that Caja Mckenzie saw the yellow, forcing yet another heroic performance from the depleted defence. Physicality was rife throughout the match and the ladies repeatedly put their bodies on the line to force Plymouth back. With four minutes to go, Marjon captain Helena Radcliffe suffered a broken leg and ankle after an inconspicuous knock. Despite these setbacks, the women pulled through and utter elation erupted on the final whistle. Injured captain Helena told us, "Although I'm gutted, nothing can spoil a Varsity win and I still had an excellent night".
Marjon men's 1st team had a lot to follow after the women's gutsy win. Their confidence was high with Plymouth University having not won in their last three matches. The game opened evenly, with creative attack and defence from both teams. However, Plymouth struck early scoring two tries through some great forward and back interplay. The tries were converted and Plymouth led the majority of the half 14-0. Marjon answered back towards the end of the half, scoring two tries through powerful forward Dan Goldsmith. After Harrison Reburn failed to convert both tries, discipline began to slip and a yellow card was shown to Marjon. Plymouth took full advantage of the penalty, opting for a kick at goal and successfully being awarded the three points. At half time Plymouth led Marjon 17-10.
In the second half, both teams were looking to play tight, simple rugby. This style of rugby led to frustration from both teams with regular handling and discipline errors. Once again, Plymouth capitalised through a penalty, extending their lead to 20-10. With the pressure building and the victory slipping, Marjon began to play expansive rugby and it wasn't long before a converted try was scored, courtesy of Matt Handford and Harrison Reburn. At 20-17, the game could've gone either way. Both teams showed glimpses of breaking through, however, Plymouth consistently applied the pressure forcing yet another penalty. Within the final few minutes, Plymouth successfully kicked the penalty adding a further three points and ending the game at 23-17.
A last minute pitch change saw Marjon 2's take on University of Plymouth 2's at Keyham's 4G pitch. The game started very evenly with both teams displaying some great attacking lines and a stern defence. However, Plymouth began to dominate utilising their big pack and speedy wingers. At half time, Marjon were trailing 43-0.
After half time, Marjon came out desperate to get a score on the board. They began playing with flair, showing great resilience despite the score. Marjon were very unlucky to not get a try despite great hands in the corner during the final few minutes. A much tighter half, Marjon only conceded 26 points with the final score standing at 69-0 to Plymouth.
University of Plymouth currently lead 4-2 and Varsity week will continue from Thursday 15 March.
Back to Marjon News