Released: 17.06.15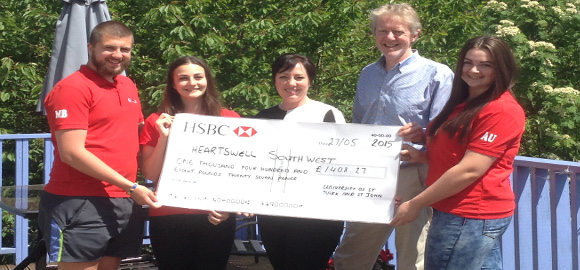 Students have presented a cheque for over £1400 to HeartSWell South West, a registered charity committed to supporting heart patients, their partners and carers across the Westcountry.
The three second year students on BA Sport Development degree organised a family Tug of War competition to raise the money for the charity as part of their event management module at the University of St Mark & St John.
Students Alice Upcott, Melissa Baverstock and Morgan Barker were thanked by the charity, along with the volunteers who contributed to the great event, which was opened by the Mayor of Tavistock on the day.
The event took place at Tavistock Rugby Club and there was a BBQ and refreshments for the 10 local teams who took part.
HeartSWell charity, volunteers and supporters have raised well over a million and a half pounds. This has enabled them to provide equipment such as defibrillators and TOE probes, funding for specialist counsellors at Derriford Hospital in particular, and the region in general.
For more information about courses at the University, register to visit one of our Open Days.
Back to Marjon News