Released: 29.03.16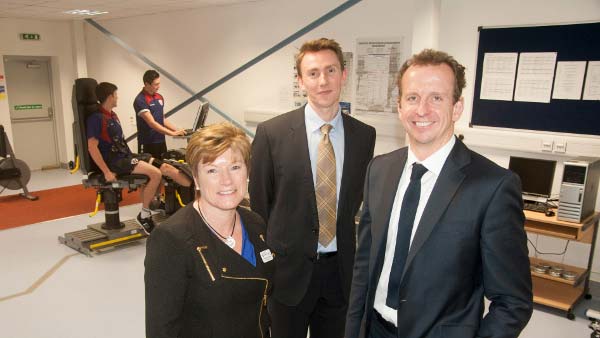 Fresh from Sport Relief, Greg Whyte OBE, sports scientist to the stars, sprinted to the new Sports Science Laboratories at the University for the official opening.
Plymouth's Lord Mayor was also in attendance to unveil a plaque celebrating the lab's recent accreditation by the British Association of Sport and Exercise Sciences (BASES), as the only lab in the South West to have achieved the prestigious award.
Professor Andrew Edwards, Dean of the Faculty of Sport & Health Sciences said: "It is a tremendous achievement by the Sport & Exercise Science team at Marjon to achieve the BASES laboratory accreditation and I am sure the prestige of this award will further strengthen our capacity in this area, rightly recognising our expertise across sport science consultancy, research and education."
Professor Greg Whyte OBE said: "This, for me, is what Sport Science is about; taking the ordinary and making it extraordinary, and with an outstanding team and world-class facilities you can deliver, and really have the power to achieve the impossible."
Guests were first to see the new, world-class equipment in the lab which is used by athletes including Ben Proud and Sarah Barrow, as they prepare to qualify for the 2016 Olympic Games.
In addition, there was a talk from Professor of Sports Medicine Cathy Speed, who has been Chief Medical Officer for Team GB at the Olympic Games; and is a Consultant in Rheumatology, Sport and Exercise Medicine.
The high profile sport sciences event included demonstrations, talks and interactive workshops to showcase the gold standards in sports science equipment including the Alter G Anti-G gravity treadmill.
The lab offers lactate testing, to enable people to predict race speeds, exercise capacity testing, the Bod Pod (body fat composition testing) 'blood analysis', 'diagnostic ultrasound' - which visualises muscle injury, nerves and muscle movements and arterial blood flow analysis, and the isokinetic dynamometer.
The University also has a public sports injury & rehabilitation clinic, where students are supervised by professional sports and health scientists. This clinic is regularly used by professional teams and elite athletes.
This comes in the same week as news that the University was recently ranked 4th in the UK for Sport in the Times Higher Education Student Experience Survey.
Back to Marjon News