Released: 31.05.18
Last night we held the prestigious Inspiring Student and Student Led Teaching Awards. Dubbed the 'Marjon Oscars', the awards are a celebration of the hard work and significant contributions made by staff and students across the year.
Vice-chancellor, Rob Warner and Associate Dean, Tomasina Oh hosted the 9th Annual Inspiring Student Awards which saw more than forty students nominated.
Marjon Student Union President, Elias McGill told us that, "It was such a fantastic evening that celebrated the amazing achievements of both students and staff at the University. It truly showed just what makes Marjon the fantastic community that it is and we took great pride in recognising the efforts everyone has put in this past year. Having the event in the marquee helped to make the event more prestigious than it has been in previous years and helped give the awards a bigger sense of achievement."
Winner of Grace Adamson Outstanding Student Award, Anna Percival, told us, "It was fantastic honour to even be nominated, let alone win! There was an amazing atmosphere at the awards and it was brilliant to celebrate with friends and staff who have helped me on my journey through Marjon." Anna won the award for her significant contributions as a student ambassador.
Inspiring Student Award Winners
Community Volunteer of the Year- Phoebe Osmaston and Marlies Maczejka
Outstanding Contribution Award - Katie Bounsall
Leadership Award - Geoffery Gulzar
Sports Volunteer of the Year Award - Ryan Parker-Bowker
University Volunteer of the Year Award - Laura Woodbridge
Grace Adamson Student Ambassador Award - Anna Percival
Academic Improvement Award - Ashton Emery
Hosting the Student Led Teaching Awards, Elias McGill told us, "The number of nominations we received this year was so overwhelming we actually had to close the nomination date earlier than first anticipated. This truly shows how much the student body appreciates the hard work and commitment the members of staff at Marjon put in to ensuring our students get the best out of their University career as possible. It was an evening that made us all extremely proud to be associated with the university."
Student Led Teaching Award Winners
Innovation Award - Steve Disney
Inspiration Award - Sarah Ord-Houghton
aCAREdemic Awars - Erica Eaton Quinn
Outstanding Supervisor Award - Kate Firks
Heart of the University - Michelle Parkman
Lecturer of the Year - Sue Wayman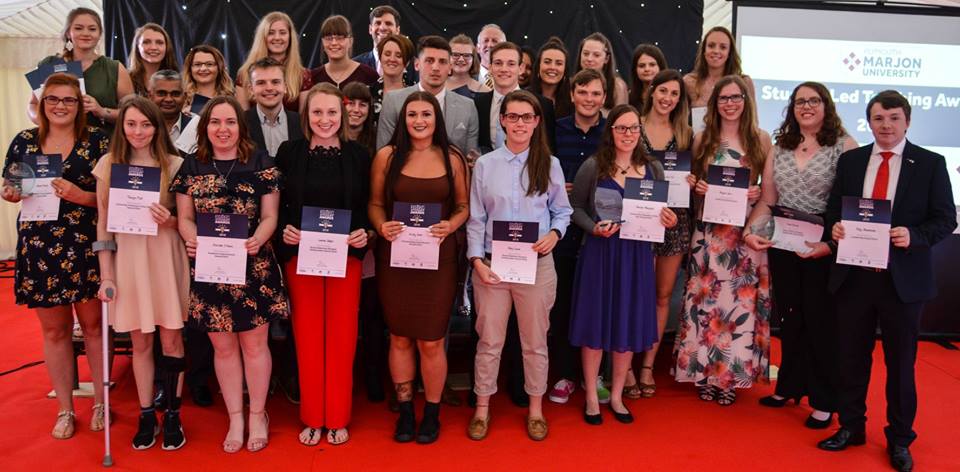 Back to Marjon News