Released: 15.05.19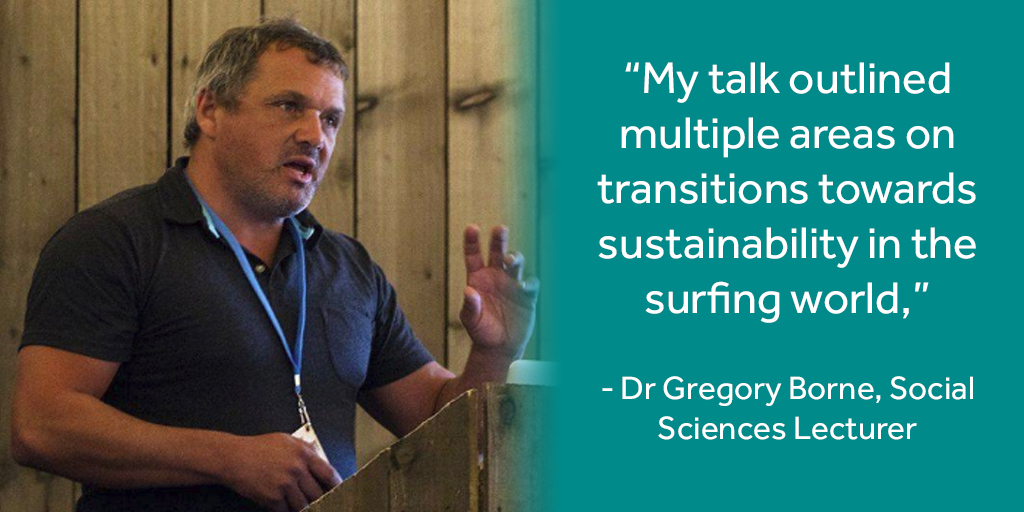 Plymouth Marjon University academic Dr Gregory Borne recently delivered a paper on the surf industry at the San Diego State University conference 'Impact Zones and Liminal Spaces'.
The conference focussed on the culture and history of surfing and brought together academics, researchers, journalists and enthusiasts to debate and discuss the issues and opportunities the industry is facing.
Dr Borne has been influential in creating an academic field of study related specifically to surfing and sustainability and has previously worked on projects with Surfers Against Sewage and Sustainable Surf.
"The conference was really inspirational with presenters from all over the world exploring different dimensions of academic research relating to surfing," said Dr Borne, who is the Course Leader on Marjon's BA (Hons) Social Sciences programme.
"Events like these are an excellent way of keeping up-to-date with current research as well as forging collaborations, partnerships and friendships which form the bedrock of a vibrant research community.
"What's also great is being able to communicate these insights from the conference with students and this is something I'll certainly be doing in my teaching at Marjon."
Dr Borne, who has previously published books discussing how the surfing industry can operate in a more sustainable way, was talking at San Diego State University on his latest book, Surfing and Sustainability, and his ongoing research which is expected for publication later this year.
Dr Borne continued: "My talk outlined multiple areas relating to transitions towards sustainability and the environment within the surfing world.
"My upcoming paper will present research on how businesses and other organisations are responding to global risks such as climate change and plastic pollution."
Find out more about Dr Borne's journey to Marjon.
Check out the Social Sciences course page.
Want to know more about studying at Marjon, meet course leaders and discover our picturesque campus? Our next Open Days are on Friday 7 and Saturday 8 June 2019.
You can apply direct to study at Marjon in 2019. Find out how here.
Back to Marjon News