Released: 05.04.19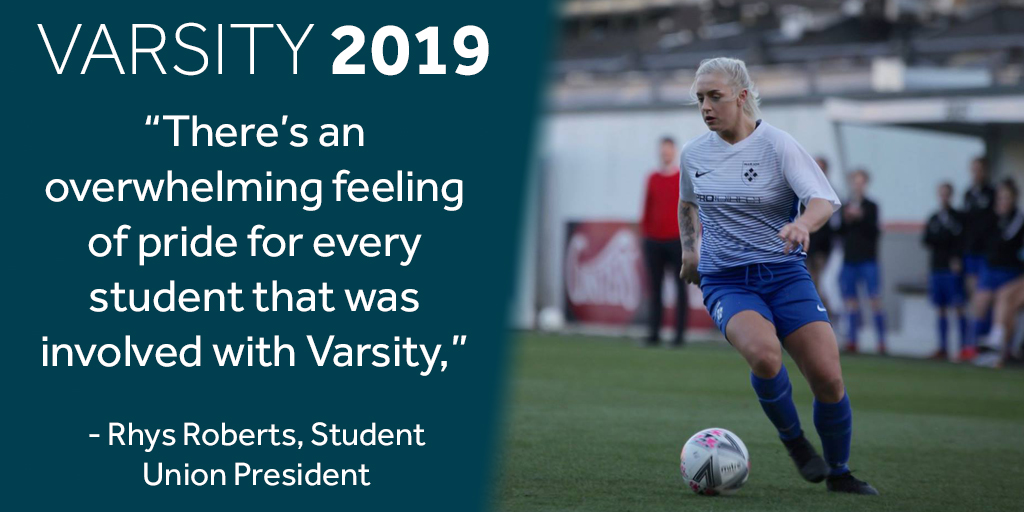 Varsity 2019 saw the University of Plymouth run out winners after a hard-fought week of sporting action.
Plymouth Marjon University and the University of Plymouth came together for their annual sporting clash with the aim of raising money for charity, and, of course, deciding which University had the best sporting talent.
With two points awarded for a win and one point for a draw, the University of Plymouth triumphed over Marjon with a score of 25-11 after 18 fixtures across a range of different sports.
The week started badly for the Jons as both the Men's Hockey and Women's Hockey sides were defeated on Marjon's astroturf pitches, with the Men losing 8-1 and the Women losing 3-1.
The Marjon Men's fourth team pegged back their UoP counterparts in a 2-2 draw while Marjon's American Flag Football team chalked up the Jons' first win of Varsity 2019.
The following days saw Marjon pick up much-needed wins in the Men's Thirds and Men's Seconds football matches, along with a terrific 83-73 triumph in the Men's Basketball.
Perhaps the most dramatic viewing to be had was in the Marjon Sports Centre when the two netball sides engaged in a typically bruising encounter. In a game that was nip-and-tuck throughout, the University of Plymouth snatched the win by a single point, with the score ending at 45-44.
The University of Plymouth managed to wrap up the overall Varsity 2019 win with four fixtures left to play thanks to a 23-5 win in the Women's Water Polo at the Plymouth Life Centre.
Varsity 2019 was concluded with a suitably dramatic Men's Rugby battle, as Marjon edged their city counterparts 18-11 at Plymouth Albion's Brickfields while Marjon's Women's Rugby side were defeated by a 15-0 scoreline.
Marjon Student Union President Rhys Roberts, who played for the University's lacrosse team at Varsity, was delighted with the effort of all Marjon's sporting sides.
"Obviously we were a bit disappointed because we lost Varsity but at the same time there is an overwhelming feeling of happiness and pride for every student that took part, trained for and supported Varsity," said Rhys.
"All the teams that won had a great time and that is always amazing to see but when teams lost, no matter how close or far the scores were, they all came together as a team and were there for eachother."
The two Universities were raising money for Plymouth Mind and the Campaign Against Living Miserably, two charities that work with those in difficulty with mental health conditions. The full amount raised for the charities will be known in the coming days.
Rhys, who studied Outdoor Adventure Education at Marjon, said, "Both Universities went for mental health charities which is a really important matter across the nation. It's great to see how two universities in the same city can come together to raise money for these charities that are doing so much work for people going through mental health issues."
Of course, the organisation of such a mammoth sporting event doesn't happen by chance, and Rhys wanted to pay tribute to those who helped make Varsity 2019 a success.
"I want to thank the Sports Federation, the Sport Executive Committee and the members of staff that help us at the Student Union for all the hard work and effort they put in organising the event," concluded Rhys.
In other sporting news, four of Marjon's sporting teams finished as champions at the BUCs South West Regional Finals.
Marjon sides from Men and Women's Football, Men's Basketball and Men's Hockey all triumphed for the University in a day where the best sporting talent from the South West's universities and colleges competed across a number of sports.
For Men's Football and Basketball, the results topped off an already impressive season; with both sides having already wrapped up their respective league title wins. Men's Football triumphed 1-0 over Hartpury, while Marjon Men's Basketball side brushed aside Cardiff Met Archers by a score of 77 to 62.
Marjon Women's Football overcame Swansea 2-0, while Men's Hockey won 4-2 against Bath Spa.
Back to Marjon News