Released: 01.11.19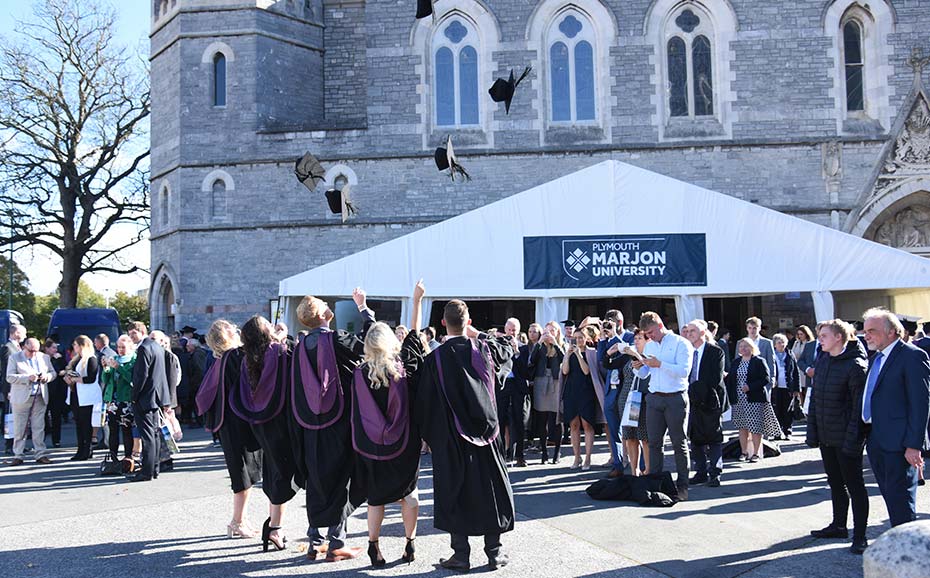 On Thursday 24th and Friday 25th October, students, family and academics gathered at the historic Plymouth Guildhall, as final year students from Plymouth Marjon University crossed the stage to receive their degree certificates.
Across four ceremonies, over 2000 people attended to celebrate student achievements in the Schools of Sport, Health and Wellbeing, Arts & Humanities, Business & Criminology, the Institute of Education, and the Marjon Teacher Education Partnership. The University awarded honorary degrees to local people who make outstanding contributions to education, culture, enterprise or society.
The University awarded an honorary degree to Debra Searle MBE, an inspirational adventurer, author, BBC presenter and serial entrepreneur. Debra has founded a number of companies and is a founding member of the Women's Business Network Forum. Debra first hit the headlines when she set out to row across the Atlantic with her husband. Unfortunately, he had to be rescued so Debra, a novice rower, continued alone and rowed 3300 miles from Tenerife to Barbados. Debra ended up spending 3 ½ months at sea alone without a support boat, encountering 30' waves, sharks, and force 8 squalls in her 23-foot plywood boat.
Debra's expeditions have included sailing around Antarctica, racing in the Monte Carlo Rally in a 1957 Alfa Romeo, cycling from the Atlantic to the Mediterranean, The Vogalonga in Venice (a 30km rowing race), and becoming the first Briton to complete the gruelling Yukon River Quest (a marathon paddling race). Debra went on to lead a group of women, which included Kate Middleton, to a new World Record for Dragon Boating across the English Channel. She has also represented Great Britain at European and World Championship level in Dragon Boat Racing winning bronze, silver and gold medals.
Another in receipt of an honorary degree was Cal Major, an ocean advocate, world record stand-up paddle boarder (sup) and veterinary surgeon. Cal founded Paddle Against Plastic in 2016 to bring a positive message to the plastic pollution crisis, and to inspire and empower positive change through stand-up paddle boarding adventures.
Her 2018 expedition saw her SUP the length of the UK, from Land's End to John O'Groats on a 1000-mile paddle to explore the extent of the plastic pollution. Cal's exciting SUP adventures capture people's imaginations and get them talking about the problem of plastic pollution, along with collaborative solutions.
Mary Quicke, Ceremony three's honorary graduate, is the Executive Director of Quicke's, a family run cheesemaking business famed for world class cheese as well as excellence in farming. Mary is a leading authority on traditional cheese production and received an MBE for her contribution to farming and cheesemaking.
Mary founded the Academy of Cheese, which aims to promote cheese knowledge and provide career development opportunities. She is currently a board member for both the Agricultural and Horticultural Development Board and the Food Standards Agency; she also chairs the Devon County Agricultural Association.
The fourth and final honorary graduate at Plymouth Marjon's Graduation this year was Bronwen Lacey. Bronwen is former Director of Services for Children and Young People in Plymouth made an outstanding contribution to raising the aspirations of local children, young people and families.
Under Bronwen's leadership, Plymouth received national recognition for the quality of work on Every Child Matters. Other successes include championing the needs of schools with armed forces families, re-modelling school buildings, launching Sure Start centres and expanding affordable extended day care. She instigated the Inclusion Kitemark and several award schemes to celebrate the skills of children.
Back to Marjon News