Released: 06.01.16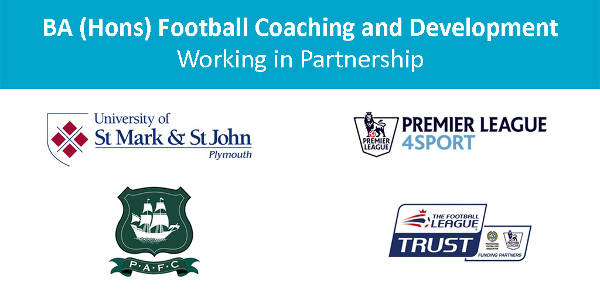 The University and Argyle Community Trust are delighted to announce the launch of a brand new degree in football development and coaching.
The new 'BA Honours Football Development & Coaching' course offers a pathway for passionate footballers across the country to take their football education to the next level.
Students will gain from the expertise of academics, professional football development officers, and coaches from Plymouth Argyle's Community Trust, as well as working with the Football Association and Sport Coach UK accredited tutors, community football clubs, and professional footballers.
Phil Brown, University of St Mark & St John's BA Football Development and Coaching Programme Leader, said: "We're thrilled to partner with Argyle Community Trust, supporting best practice and ensuring students have both the academic qualification and the applied experience to develop fantastic careers in the vast global football industry.
"Students will apply theory to practice including coaching, work placements, and even paid roles whilst they study for their degree."
Individuals on the course will develop coaching and performance analysis skills to ensure they can plan, deliver, and evaluate high quality, age-specific football coaching sessions. They will also gain the football coaching qualifications 'FA Level 1 & 2', 'Youth Modules 1 & 2', 'FA Futsal Level 1' and 'Street Soccer Level 1'.
To celebrate the new programme, the University has launched an Elite Team Sports Bursary offering £1000 to eligible players, and it hopes to attract current and former professional academy players.
More information about programmes offered at the world-class Faculty of Sport & Health Sciences.
Back to Marjon News