Released: 12.05.17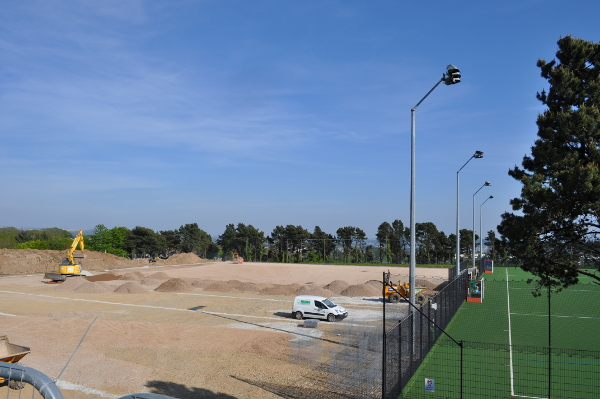 Olympics gold medallist Giselle Ansley made a surprise, whistle-stop visit to Plymouth Marjon University to see how work is progressing on the new second hockey pitch at Plymouth Marjon Hockey Centre.
Former Plymouth Marjon Hockey Club ace Ansley - who famously won gold with Team GB in the Rio women's hockey final - will return to the university later this summer to host a special hockey camp on the new state-of-the-art "second" pitch following its completion.
Professor Andrew Edwards, Dean of Sport and Health Sciences at the University said: "We're thrilled to have Giselle's support, that the project is making good progress and that the new pitch will further our position as a centre for sporting excellence in the South West."
Plymouth Marjon University's Jamie Oxley, a prime motivator in securing funds for a second pitch, said: "We are hoping the second pitch will be ready in July weather permitting."
Oxley - who is also head coach at Plymouth Marjon Hockey Club, where Ansley began her hockey journey - added: "It is fantastic that work on the second pitch is well underway.
"The whole project was very close to folding due to the loss of capital funding from Plymouth City Council.
"It was down to the additional financial support provided by Marjon University, the National Hockey Foundation and Plymouth Marjon Hockey Club that the project has gone ahead but we were so close to losing the Sport England and National Hockey Foundation grants if we had not be able to meet the shortfall and complete by this summer.
"A special thank you goes to Dr Karen Cook Deputy VC, Professor Andrew Edwards Dean of Faculty and Stan Cinnamond Director of Sport who have championed the project at Marjon University.
"Without the support of the university the project would have simply collapsed."
Oxley's vision for ever-increasing hockey participation and it's benefits to Plymouth and the wider community are plain to see.
He enthused: "The Plymouth Marjon Hockey Centre will become a major hockey hub in the South West.
"With side-by-side pitches we can host regional finals, become a regional performance centre and host major tournaments.
"All of this is very important for the city and its economy - by putting Plymouth on the national hockey map - but also for the region.
"We look forward to providing a pathway for talented regional hockey players but also opening up the opportunity to enable more people to play hockey, whatever their age or ability.
"Since 2014 membership of hockey clubs in the city/region are up 45 per cent for under 16s and 17 per cent for senior players, an overall 28 per cent increase. We have to match that demand with facilities."
Giselle Ansley's hockey camp at the Plymouth Marjon Hockey Centre will run from July 25-28.
Find out more about studying at Marjon and come along to an Open Day.
Back to Marjon News