Released: 25.02.19
The Plymouth Oracy Project is set to present its findings after an 18-month Department for Education-funded project aimed at improving listening, speaking and feedback skills across Plymouth's classrooms.
Plymouth Teaching School Alliance (PTSA) has led on the project, providing evidence based CPLD, workshops and targeted development opportunities for teachers at partner schools wishing to promote oracy in their classrooms.
Oracy is the ability to express one's self fluently in speech and the aim of the project is to improve the quality of conversations taking place in the classroom, while studying the effect this can have on pupils attainment, progress and confidence.
The findings of the study are set to be announced fully at an event held at Plymouth Marjon University on 3 April 2019.
Donna Briggs, Deputy Director of the Plymouth Teaching School Alliance, has been leading the project and is pleased with the developments in schools across the city.
"We hope the research will show that the ability to articulate speech well impacts on pupils' ability to read, write and learn."
As part of the project, teachers from around 50 schools in Plymouth have been attending continuous professional development workshops and actively reflecting on their own classroom practices.
Donna continued: "It has provided a lot of professional development and huge improvements with the speaking and listening skills of children across the city have been reported and we're pleased with how oracy has been embraced in the schools that have taken part."
"What's interesting is that oracy looks different in all of the schools that have taken part. We haven't just provided a scheme of work for schools to use. We have provided people with the research, knowledge, understanding and skills to lead it themselves in schools. That way, teachers get to organise oracy in their own school and decide how it best fits their pupils' needs."
Part of the project was aimed at improving oracy in the city's classrooms but the Department for Education also wanted some research findings for the project; all of which will be revealed at Marjon on 3 April. As part of the scheme, data has been collected from schools regarding student achievement, teacher confidence and how improved oracy has affected pupils from disadvantaged backgrounds.
"Although final results have not been received, we think our research will show improved attainment across English and Maths in schools who have been involved and that improvement is even greater with pupils who come from disadvantaged backgrounds," said Donna.
"So while everyone seems to have improved thanks to this project; it's those who come from the most deprived backgrounds who seem to gain the most from what we've done."
Donna is pleased the project has had the support of Marjon; an establishment that has had such a rich history of teacher training.
"Marjon have been a key strategic partner in this project. They're supporting us with the evaluation and also supporting us with the venue for holding the development events and helping us with writing case studies."
Gill Golder, Director of Teacher Education at Marjon, is leading the research aspect of the project and Marjon has been a host venue for some of the project's workshops and cluster meetings. Gill said:
"The Plymouth Oracy Project was designed to develop teachers' theoretical and pedagogical understanding of dialogic talk for learning, with a particular focus on disadvantaged pupils' oracy development and educational outcomes. I will be delighted to share the outcomes of the project along with a series of case studies from a number of schools, focusing on specific aspects where greatest impact has been felt. At a time of change in schools where OFSTED are moving away from headline data to look instead at how schools are achieving these results by offering a curriculum that is broad, rich and deep, Oracy has a significant role to play.'
As well as Gill presenting the findings of the project, the event will have a key note delivered by education expert Jean Gross, who has previously led national projects on improving children and young people's life chances through oracy development.
However, the impending end of the project doesn't spell an end to oracy provision in the South West with Plymouth Teaching School Alliance hoping to see the impact of this study in the coming years.
"Going forward from this we will have a PTSA Oracy Hub which will continue to disseminate evidence led CPD across the city.
"We're going to use our Plymouth experts to disseminate learning and development to some of those schools who haven't been involved in the project, not just in Plymouth but across Devon and Cornwall. We're going to have a Plymouth Oracy Hub that will meet regularly and any teaching staff from the city will be welcome to come to those meetings and gain more knowledge.
"This is only really the start of oracy in Plymouth. It has been a very big and successful start but it is only that start and we want it to grow from here," concluded Donna.
There are a limited number of places available, free of charge, at the event which can be reserved here.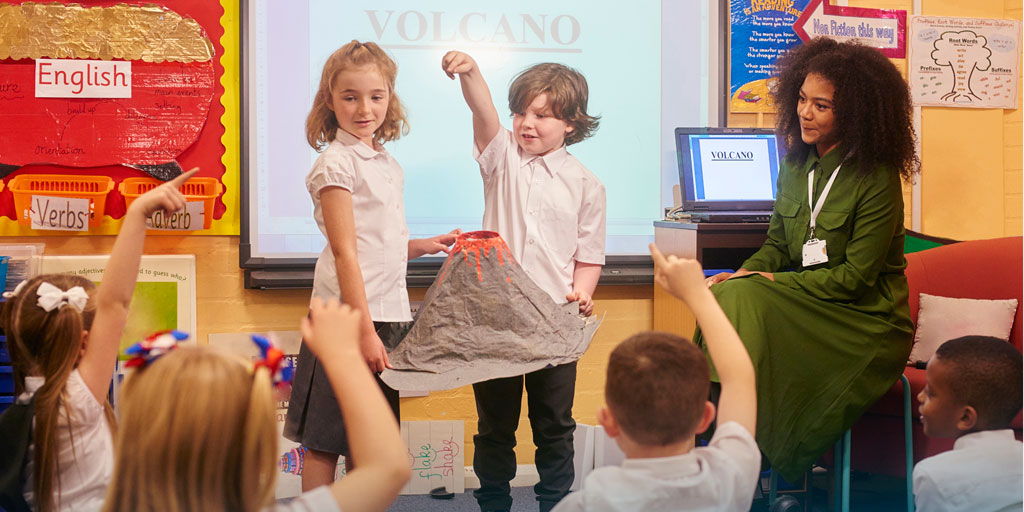 Back to Marjon News