Released: 08.07.15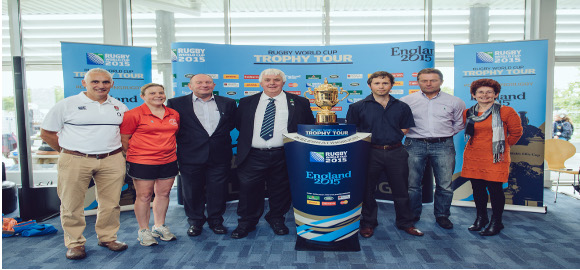 Today (July 8) the University of St Mark & St John hosted a formal welcome of the most coveted prize in Rugby, the Webb Ellis Cup.
On day 28, the Rugby World Cup 2015 Trophy Tour saw youngsters, professional and national players and guests enjoy a celebration bought to the city by the Plymouth Rugby Consortium.
The University worked with the Council's Schools Sport Partnership to create meaningful memories for 80 local school children who were photographed with the Webb Ellis Cup.
Lisa Hampton, England 2015 Trophy Tour Manager said: "This is the first Team Base the Cup has visited in England and it's been great to be in Plymouth to see the preparations the University has made ahead of the Rugby World Cup 2015."
Stan Cinnamond, Director of Sport at the University of St Mark & St John, which is Plymouth's official Team Base for the Namibian rugby squad said: "Having the Webb Ellis Cup here today brings the excitement of a world class competition onto our doorstep and reminds us that to achieve on a global level is something our young people, students and elite sportspeople can all aspire to, and is within their reach with the right training, facilities and educational opportunities."
Young player Felicity Jordan, 10, from Ernesettle Community School took part in the tag rugby festival as part of the day. She said: "It's amazing be here and to see the Cup because I've never seen a trophy before and it's so much bigger than I thought it would be."
Anna Clooke, from the Plymouth School Sports Partnership said: "We hope the young people involved today raise their aspirations to see what is achievable and that Plymouth is not that far removed from these high profile events."
Councillor Peter Smith, Deputy Leader of Plymouth City Council said: "It's been fantastic today and will hopefully inspire a future generation of rugby players."
Sarah Hunter and Graham Dawe, were on hand to offer their tips to the youngsters.
The Plymouth Rugby Consortium partners are Plymouth City Council, the University of St Mark & St John, Plymouth Albion, the MOD, and Everyone Active.
The Rugby World Cup Trophy Tour began its journey through Scotland, Northern Ireland, the Republic of Ireland, Wales and England on Wednesday 10 June and will arrive at Twickenham Stadium on Friday 18 September.
Back to Marjon News