Released: 01.02.16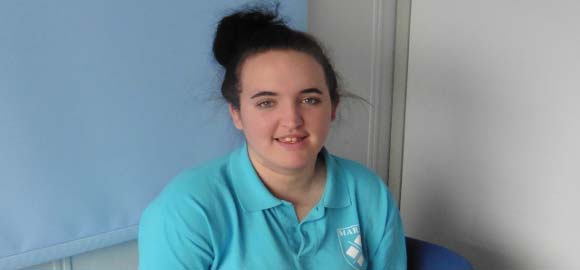 A 21-year-old student at the University of St Mark & St John is one of the lucky individuals to be sent on an all expenses paid trip to Rio, where she will be an official steward of the 2016 Olympics.
Over-the-moon Charlotte Jenkins, from Wolverhampton, is studying the third year of her degree in Health Exercise & Physical Activity, having been a super fan of sport since she was a small child.
Charlotte said: "My Dad introduced me to football and golf at an early age and, when he passed away, I became very close to my Granddad who was a keen cross-country runner.
"I watched the athletics and swimming with Granddad and, as a glutton for punishment, I did every sport I could at school. As the school Head Sports Ambassador during London 2012 I pledged and promoted the Olympics values at school."
Charlotte was accepted onto the Olympic volunteer scheme from over 100,000 applications from all around the world. To get in, she had to succeed in the application form, online interview, and French and Spanish aptitude tests. She said: "When I found out I'd got a place I told my Mum, 'I'm going, no matter what!'"
Joe Layden, Programme Leader for BSc (Hons) Health, Exercise and Physical Activity at the University of St Mark & St John said: "Being offered a place on the volunteer scheme is a real credit to Charlotte's dedication and commitment to sport and exercise. I'm sure the opportunity to work in the Olympic Village will be one which she will relish and will provide her with great opportunities and experiences to help in her career."
She flies out for a week's training in July to receive her uniform and will stay in fully catered accommodation at the Olympic village for the duration of the games.
Since working in a sports summer camp, the Marjon Student Ambassador has wanted to help young people get into sport. She said: "I'll think I'll cope with whatever they throw at me in Rio as I had 80 international students aged 11-17 on one 5-a-side football pitch! I had to improvise and they loved what I was doing so much that they asked to carry on working with me instead of enjoying their evening entertainment."
Charlotte's course in BSc Health Exercise and Physical Activity at the University of St Mark & St John will prepare her for a number of careers. As well as the Olympics, potential employers could include the NHS, local government, the armed forces and fitness clubs.
Potential roles could include personal training, health promotion, teaching, or working as a cardiac rehabilitation specialist. A number of students also go on to postgraduate study in fields of nutrition or health promotion.
Charlotte will complete a video diary of her experience in Rio. For more information and to follow her story, 'like' the University of St Mark & St John on Facebook and follow @marjonuni on twitter.
Back to Marjon News