Released: 25.02.16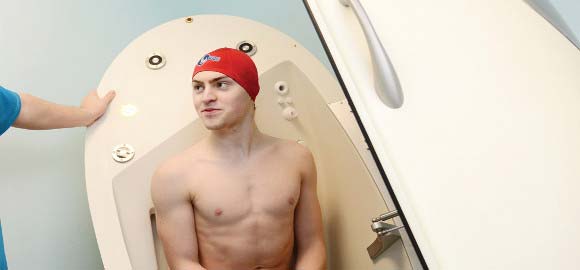 Ever wondered how you train celebrities like David Walliams, Davina McCall, and Jo Brand to overcome incredible sporting challenges and feats of endurance?
Greg Whyte OBE, Sports Scientist to the stars, will reveal all when he opens the new Sports Science Laboratories at the University of St Mark & St John on 22 March.
As part of the Grand Opening, Professor Whyte will share his fascinating career with VIP guests, coaches, and elite athletes as they have their sports socks blown off by science.
Guests will be the first to see the new, world-class equipment in the lab which is used by athletes including Ben Proud and Sarah Barrow, as they look ahead to the 2016 Olympic Games.
In addition, the University is proud to present a talk from Professor of Sports Medicine Cathy Speed, who has been Chief Medical Officer for Team GB at the Olympic Games; and is a Consultant in Rheumatology, Sport and Exercise Medicine.
The high profile sport sciences event will include demonstrations, talks and interactive workshops to showcase the gold standards in sports science equipment including the Alter G Anti-G gravity treadmill.
The lab offers lactate testing, to enable people to predict race speeds, exercise capacity testing, the Bod Pod (body fat composition testing) 'blood analysis', 'diagnostic ultrasound' - which visualises muscle injury, nerves and muscle movements and arterial blood flow analysis, and the isokinetic dynamometer.
The University also has a public sports injury & rehabilitation clinic, where students are supervised by professional sports and health scientists. This clinic is regularly used by professional teams and elite athletes.
If you are interested in attending the Grand Opening event, please email events@marjon.ac.uk to register your interest.
To arrange a consultation in the injury and rehabilitation clinic, find out more.
Back to Marjon News