Released: 16.03.15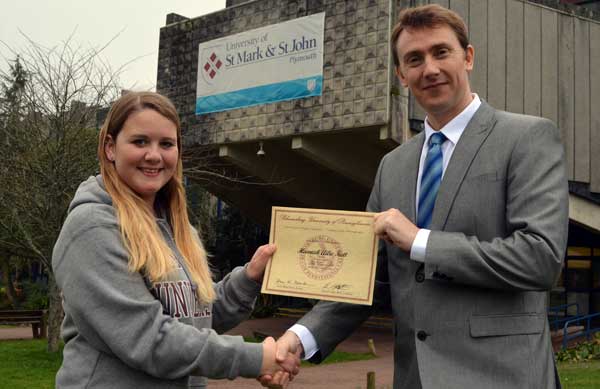 A six month stint at an American university has led to a place on the 'Dean's List' for two second year students.
The Dean's List recognition is for achieving high academic grades, and is honoured with a certificate and listed on students' transcripts.
Sam Ryder and Hannah Kett , both made the grade at Bloomsburg University in Pennsylvania.
Hannah said: "It was an incredible opportunity and really opened my eyes to how many opportunities there are around the world.
"Spending time in America and has made a huge impact on my life and I've made friends I know I'll have for life."
Luke Springman, Director of Global Education at Bloomsburg University said: "It is common in the US that outstanding academic achievement is recognised each semester as well as at graduation. University of St Mark & St John students tend to perform very well academically at Bloomburg University."
Faye Hatherly-Edwin, Employability Coordinator at the University of St Mark & St John, said: "Our students who take part in an international exchange really thrive on the experience both socially and academically and we wish Hannah and Sam well for the rest of their studies."
For more information about studying at the university, register to attend one of our Open Days.
Pictured: Hannah Kett and Andrew Edwards, Dean of the Faculty of Sport & Health Sciences.
Back to Marjon News