Released: 10.08.16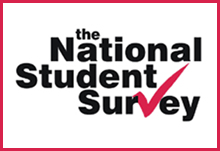 In National Student Survey results released today, the University of St Mark and St John in Plymouth (Marjon) has shot up the league tables achieving 100% student satisfaction in some of its flagship courses and placing it among the UK's top universities for student satisfaction.
The ranking comes from the annual National Student Survey (NSS) which surveys students in their final year. Marjon showed the highest percentage point increase of any university this year, rising up the rankings to be rated joint 35th out of 160 universities in the country, with 89% overall student satisfaction.
Several Marjon courses were ranked joint top in the country with 100% satisfaction, including the innovative new Acting degree, which sees its first students graduating this year, to the long established and well respected Secondary Education with PE. Other courses with 100% satisfaction were Sport Development with Physical Education and Sports Media and Journalism, showing a breadth of talent across all three Marjon faculties. Also scoring well above sector average were Coaching and Physical Education (92%), Youth and Community Work (92%), Sports Therapy (92%) Strength and Conditioning (91%) and Journalism (91%).
The University as a whole scored well across a breadth of measures such as Teaching (90% satisfaction), Personal Development (89% satisfaction) and Learning Resources (88% satisfaction). This positioned it above eight of the 10 other universities in the South West including Plymouth, Bristol, UWE, Bath Spa and Falmouth. Out of the 24 Russell Group universities in the UK, only six came in higher than Marjon for student satisfaction. When compared to other "modern" universities, excluding specialist and private providers, Marjon now ranks joint 6th in the country.
Vice-Chancellor Professor Cara Aitchison said:
"Our personalised approach to education ensures that all of our students thrive within a welcoming and supportive university environment that stimulates them to achieve academic success while also developing the skills, confidence and experience to succeed in graduate-level employment and life more generally. Our tutors are among the best qualified in the sector with more qualified in university teaching, having PhDs and having gained significant industry experience than in comparable universities. We often hear positive feedback from students about the high level of support they receive and the excellent facilities we have here on campus, but we are all delighted to see this reflected in this important independent survey."
Dr Elizabeth Smith, Pro Vice-Chancellor for Learning, Teaching and Student Experience, described the commitment to personal development which underpins the results:
"We have pioneered an approach that puts students' personal development front and centre of their experience. Every course includes core personal development training, where students work in small tutorial groups and have individual coaching. This enables them to focus on their strengths, work out what they want to achieve, and ultimately enjoy the career they want. This distinctively modern approach to personal development gives students huge confidence for the world of work and sees 95% of Marjon students in work three months after graduating."
This focus means that the University significantly outperforms the sector average on NSS measures such as "the course has helped me to present myself with confidence" at 89% versus 81% for the sector, and "my communication skills have improved" at 91% vs 84% sector.
Professor Aitchison praised the entire team at the University, including the students themselves for this success:
"Our students are from diverse and varied backgrounds, and our small class sizes mean everyone contributes to the rich learning experience of their fellow students. All staff within the University work to ensure our students can thrive both socially and academically, from catering staff and IT to the library and our exceptional student support teams. This outstanding result is down to the dedication of the staff and the commitment of our students and I extend my thanks to everyone at Marjon for maintaining our 178 year heritage of widening access to high quality education."
Back to Marjon News