Released: 13.10.15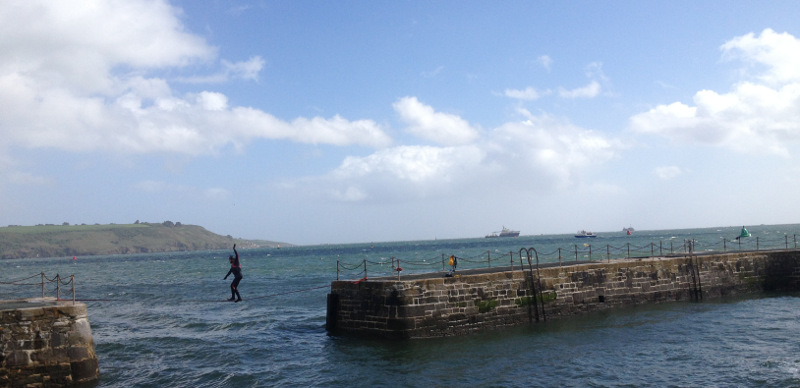 Outdoor Adventure Education graduate Ben Hughes, 26, from Colchester in Essex, has taken an exciting adventure into a social enterprise in the slacklining industry.
Slacklining is a balance sport where users walk across a slack piece of webbing which is secured between two points. It is growing in popularity as an adventure sport.
Having graduated in Outdoor Adventure Education in 2013, he is now running a successful social enterprise founded in his Third Year. He said: "Without the skills, knowledge and determination I gained though studying at the University of St Mark & St John, I'm not sure I would have had the ability to do it."
Dr Mark Leather, Programme Area Lead for Outdoor Adventure Education, praised his achievements: "Ben was an outstanding student for a whole variety of reasons. He made the most of his opportunities here and his intense approach to life and particularly his final year studies saw him gain a well-deserved 1st Class Honours degree. It has been fantastic to see his business flourish and how Outdoor Adventure Education graduates can achieve great things and really make a difference in the world."
The company, 'Ru-Slack', is the only slackline based social enterprise in the country which aims to create social capital by developing and educating people through the medium of slacklining.
As a Fellow of the School for Social Entrepreneurs and a proud member of The Institute for Outdoor Learning, Ben's mission is, "to encourage people to go outside into their environment and engage in something real, with real emotion, real consequence, real purpose and potential to reach beyond themselves, leading to positive affirmation and personal development."
The organisation has gone from strength to strength and has taken slacklining to over 10 different countries in the UK, Europe and the Middle East. Their work has impacted on crime prevention programmes for Plymouth City Council and Devon & Cornwall constabulary and they have worked in schools and universities and carried out numerous performances.
He explained how the BA (Hons) Outdoor Adventure Education programme helped him: "Although I had previously worked in the outdoor industry, it helped me build a holistic understanding of the industry and sparked something inside me that helped me enjoy learning for the first time in my life."
"During my time at University, I completed over 500 hours of volunteering and worked as a student ambassador. Both look great on my CV, plus I got to earn extra money whilst learning."
When asked why he chose to study in Devon, he said: "I liked the location which was so close to the sea, climbing on the moors, surfing on the north coast whilst also being based in a city; ultimately it gave me the best place for adventures whilst also being able to find employment."
He added: "The University has it all; great location, great staff, great support systems, great industry links, great campus, all that is required is your input; I would recommend studying there to anyone. The experience was so good I'm thinking of going back and doing my masters!"
The University of St Mark & St John is holding an Open Day this Saturday October 17.
Find out more about: BA (Hons) Outdoor Adventure Education.
Register to attend an Open Day.
See www.Ru-Slack.co.uk for more information about Slacklining.
Back to Marjon News