Released: 27.09.13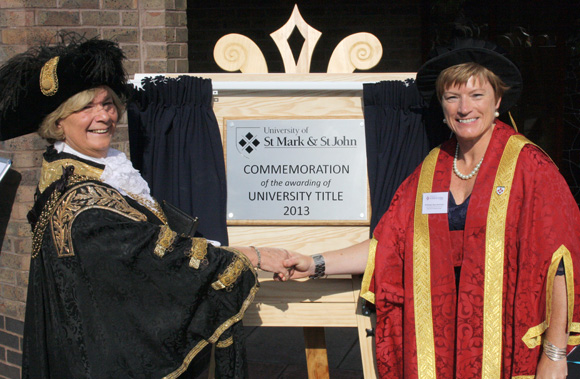 On Friday 27 September, The University of St Mark & St John began its celebration of 175 years in Education with "The Celebration of University Title". The event, which included key stakeholders and university staff began with an academic procession, a welcome from the President of the Student Union, Christian Moffatt, a speech by the first ever Vice-Chancellor, Professor Cara Aitchison, followed by guest speaker Professor Sir Eric Thomas, Vice-Chancellor University of Bristol.
There was also a performance by staff and graduates on the heritage, distinctiveness and creative edge. The event culminated in a garden party on the university lawn with the unveiling of the commemorative plaque.
Professor Cara Aitchison said:
"It has been a great occasion, and the sun shone for us. My colleagues were absolutely outstanding, presenting showcases of their work, talents and commitment to our students. The day has illustrated our heritage, our history, and how we are remaining true to our values. We are being innovative, creative, making major contributions to the economy, the student experience and developing lots of new and innovative approaches to education that will be of great benefit to Plymouth and the region more generally. A huge thanks to our stakeholders for helping to make this such a memorable occasion"
The second event to mark our 175 years in Education will be our Thanksgiving Service on Wednesday 2 October at 2pm at St Andrews Minster, Plymouth. The service will include the official Installation of our first ever Vice-Chancellor, Professor Cara Aitchison. This is an open invitation to everyone to give thanks for our new university status.
ENDS
Back to Marjon News