Released: 24.08.15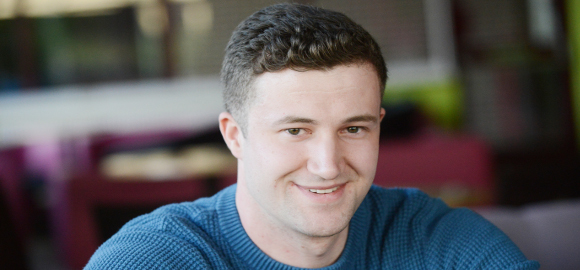 A student of the Faculty of Sport & Health Sciences has been recognised with an annual award for volunteering after working on community health projects.
James Harding won the annual Volunteer of the Year Award after giving up over 100 hours of his free time to volunteer.
He said: "I've been working in the Sports Science lab which has been really fun; seeing the work that my lecturers do, and working with people to conduct health checks; not only at the University but also at British Aerospace.
"I helped on a project where company staff came in for blood tests, and we tested their height and weight, and body fat. Volunteering helped me learn how to speak to a range of different people as well as use the specialist equipment in the lab, which would normally take years to learn."
Head of Employability at the University of St Mark & St John, Jo Lake, said: "Volunteering whilst at university is so important, and the benefits to your career prospects are immense.
"Throughout students' time here we hope they discover that volunteering is not only fun, and beneficial to our local community but also a valuable learning experience for developing interpersonal, problem solving, self-application and personal reflection skills which looks great on a CV and will impress potential employers. "
Currently over 42,000 students volunteer through organised volunteering programmes at universities throughout the UK and, as a values-based higher education institution, volunteering is an important part of the student experience at the University of St Mark & St John.
In Sports Therapy, students volunteer to treat athletes at community sporting events, and Speech and Language Therapy students work with people and families attending a Parkinson's clinic as well as a Memory Café for individuals and carers of people with dementia.
In the University's Youth and Community programme, there were 47 undergraduate students on placements in the South West region who completed 15,882 hours of practice in private, public and voluntary sector youth & community work organisations in 2014-15.
More information about our courses.
Register to attend an Open Day.
Back to Marjon News