Released: 02.03.16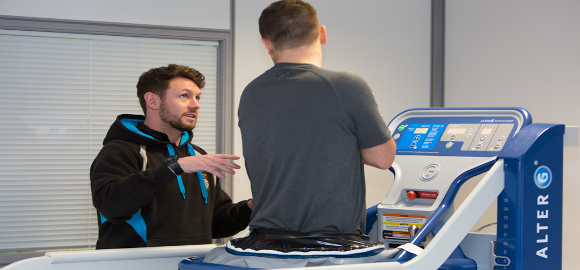 People in the South West can use a NASA-derived anti-gravity treadmill in new health science laboratories at the University of St Mark & St John. The University has invested heavily in new labs, comprising biomechanics & physiology laboratories which will officially launch on 22 March and promise to offer world-class equipment for the public, students and health exercise professionals across the UK.
Included in the investment is the new Alter-G Anti-gravity treadmill which evolved from technology to add pressure to an astronaut's body during exercise in space. The reverse effect is now used for patients suffering from brain injury, neurological disorders, athletic injuries and obesity in physical therapy.
It uses air pressure to reduce body weight and allow individuals to run at up to just 20% of their weight. It is gaining traction in health settings such as the University's sport injury and spine clinic, as well as with elite athletes for improving endurance and performance. The treadmill is fast becoming a popular tool for those with arthritis, knee and ankle injuries, according to Marjon researchers.
Dr Gary Shum, Associate Professor in the Faculty of Sport & Health Sciences at the University of St Mark & St John said: "There are very few opportunities for treatment like this throughout the South West, which are available for the public to use at low cost, and with such short waiting lists."
He added: "The treadmill is good for professional sports players who use it for speedy recovery from breaks, and for elderly patients who can exercise safely and independently, and we plan to use it for important research to support health and exercise rehabilitation in the very near future."
The Alter-G Anti-gravity treadmill is also recommended for endurance athletes who are susceptible to shin splints, in particular in the lead-up to big events. For example, a marathon runner can use it to avoid injury in advance of the race.
Dr Shum says it could be an alternative to hydrotherapy, which is also offered at Marjon. "The loading acting on the knees and ankles have been found to be significantly reduced when running on the Alter-G Anti-gravity treadmill."
People with chronic arthritis can benefit too. Dr Shum added: "one client in her 80s who has been unable to walk unaided for eight years now reports a renewed confidence."
The Marjon Sports Injury & Rehabilitation clinic is a learning setting for students who are supervised by professional sports and health scientists. Other services available are lactate testing, to enable people to predict race speeds, exercise capacity testing, the Bod Pod (body fat composition testing) blood analysis, diagnostic ultrasound - which visualises muscle injury, nerves and muscle movements and arterial blood flow analysis, and the isokinetic dynamometer, described as the gold standard of strength assessment.
For your chance to see the new laboratories in action at the University of St Mark & St John or to arrange a consultation, get in touch.
If you are interested in attending the official opening of the Sport Science Labs, email events@marjon.ac.uk.
Back to Marjon News