Released: 06.07.17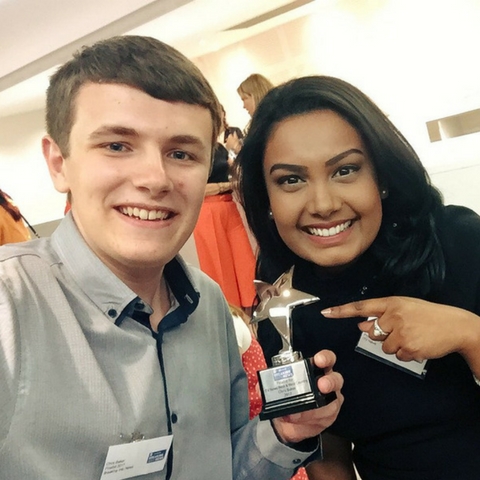 First year BA (Hons) Journalism student Chris Baker was crowned South West winner of the annual ITV Breaking Into Media awards ceremony in London – having impressed some big industry figures along the way.
Chris, from Ivybridge, was one of 10 national finalists invited to ITV's South Bank studios and, while he didn't win overall, was still really pleased to have been given the chance to gain so much hands-on experience in only his first year at Marjon.
Chris said: "It was amazing. I didn't think I'd win once I got there and saw how good some of the other entries were. But I was one of the younger finalists, and most of the others had already graduated so it feels good that I've still got two more years to keep learning and gaining experience at Marjon.
"I was able to put a lot of what we've already done on the course into practice and just getting this sort of exposure gives me hope that I can go on to work in the industry when I leave.
"There were a number of previous finalists there and I was speaking to one from 2012 who now works as a production journalist on BBC Breakfast, so that gives me a lot of confidence this could be just the beginning."
Chris was named the regional winner for the South West in April had his story about the impact plastic has on marine wildlife on our beaches aired on ITV West Country in June – which was followed by a live piece to camera to the presenters in the studio. You can watch Chris' story on the ITV website.
And he was quick to praise the support he received from his mentor, ITV West Country broadcast journalist Ashna Hurynag, who helped him turn his idea for a story into reality.
"She was brilliant," said 19-year-old Chris. "She really pushed me out of my comfort zone, which is really the best way to learn. I'm so grateful to Ashna and everyone at ITV for the opportunity.
"Ian Axton, the head of news at Westcountry, also came along and told me to stay in touch, so I am hoping the opportunities it will lead to will be just the same as if I'd won overall."
The nationwide Breaking Into News scheme is run by the Media Trust, in partnership with ITV News. For more information visit www.breakingintonews.co.uk or follow the hashtag #BreakingintoNews on Twitter.
Back to Marjon News