Released: 23.02.18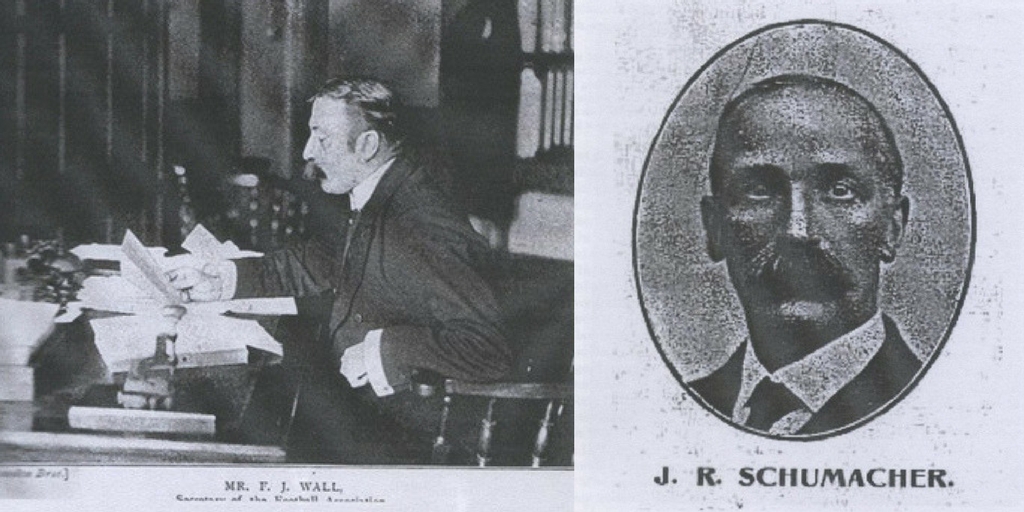 Recent research in the Marjon archives has revealed how Marjon sports alumni from as far back as the 1890s have helped to shape the modern 'beautiful' game.
Notable footballing alumni include Sir Frederick Wall, founder of the modern game and Secretary of the Football Association from 1894 to 1934 and John 'Dick' Schumacher, who had a major influence on modern refereeing.
As well as being responsible for the original purchase of Wembley Stadium, Wall is also credited with introducing the 'combination game' which helped the game to flow and is the legacy of today's modern game. He introduced a change to the original offside rule and the gradual transition from a 'dribbling' to a 'passing game'.
In terms of refereeing, it was Marjon alumnus, John 'Dick' Schumacher, who attended St Marks College in 1883, who helped to shape modern rules on this. As Vice President of the English Football Referee's Association, Schumacher had a major influence on the Referee's Classification Code which rules which level of matches referees are qualified to take part in.
As a referee, Schumacher's most notable appearances were at the 1908 Olympic final, when Great Britain won 2-0 over Denmark and in the 1912 FA Cup Final when Barnsley won 1-0 over West Bromwich Albion.
For those interested in following in the footsteps of Marjon's famous footballing alumni, the BA (Hons) Football Development and Coaching degree prepares students for a career in the football industry.
The course is packed with real-life, hands-on experience, allowing plenty of opportunity to put theory into practice. Marjon works closely with its partners, Plymouth Argyle Football Club's Argyle Community Trust, to ensure that students you have the very best learning experience, with sessions delivered by both academic staff, and industry professionals.
Back to Marjon News