Released: 17.12.19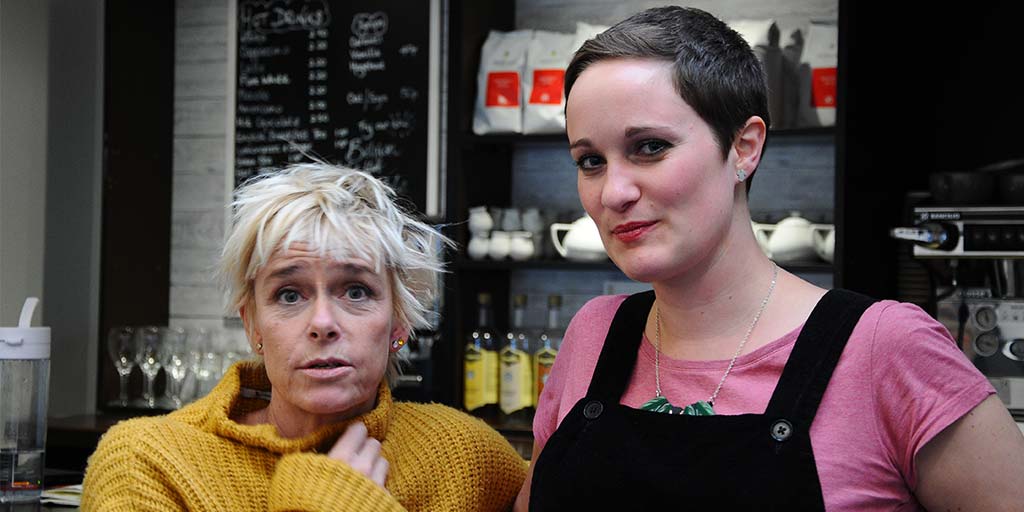 Plymouth Marjon University's Performing Arts department welcomes two new lecturers, Dr Sharon Smith, and Kate Massey-Chase.
Dr Smith is an interdisciplinary performance artist and lecturer, with a first-class Honours degree from Nottingham Trent University where she studied theatre and performance art.
Sharon has performed and taught all over the world: Australia, Canada, U.S., Russia, Europe and the UK. Previously based in Berlin since 2010, she is part of a 7-headed theatre collective called Gob Squad, that produces theatre and performance which tours internationally and she has now made the move to Plymouth Marjon.
"I'm very excited to begin a new chapter, as part of a new team in the Performing Arts department at Marjon. My hope is that I can bring some of the work I do outside of my role to the department, so that the students are able to work more with people from the industry in a professional setting" said Sharon.
Kate Massey-Chase is currently studying a PhD at the University of Exeter, researching how Applied Theatre could support young people in the transition between Child & Adolescent and Adult Mental Health services. Kate presented some of this research to the All-Party Parliamentary Group for Arts, Health and Wellbeing's roundtable on Children and Young People's Mental Health and the Arts, in the House of Lords.
As an undergraduate, Kate worked for three years in Winchester Prison, on a project which saw university students and prisoners working side-by-side, led by industry professionals. The project was turned in to a book which Kate co-edited. The book, 'Playing for Time Theatre Company' presents the reader with a rich and invaluable resource for using theatre in criminal justice contexts, exploring ideas of identity, community, social justice and the power of the arts.
"What was really special about the book, is that we had chapters authored by different people in the play. So, we had a historian, a playwright, an actor writing for the book, and one of the prisoners even wrote a chapter as well", said Kate.
Sarah McAdam, Director of School for Arts & Humanities at Marjon said:
"It's really important to us at Marjon to bring in lecturers who have up to date industry experience and it is especially important across all of the performing arts programmes. Both Sharon and Kate bring a huge amount of talent and knowledge about different aspects of the industry."
Plymouth Marjon's Arts Centre continues to develop and flourish, and offers a professional space for companies to perfom and rehearse to whole of the region.
Find out more about Acting, Musical Theatre and Performing Arts Education at Marjon
Find out more about Kate's book: Playing for Time Theatre Company
Back to Marjon News