Released: 03.02.20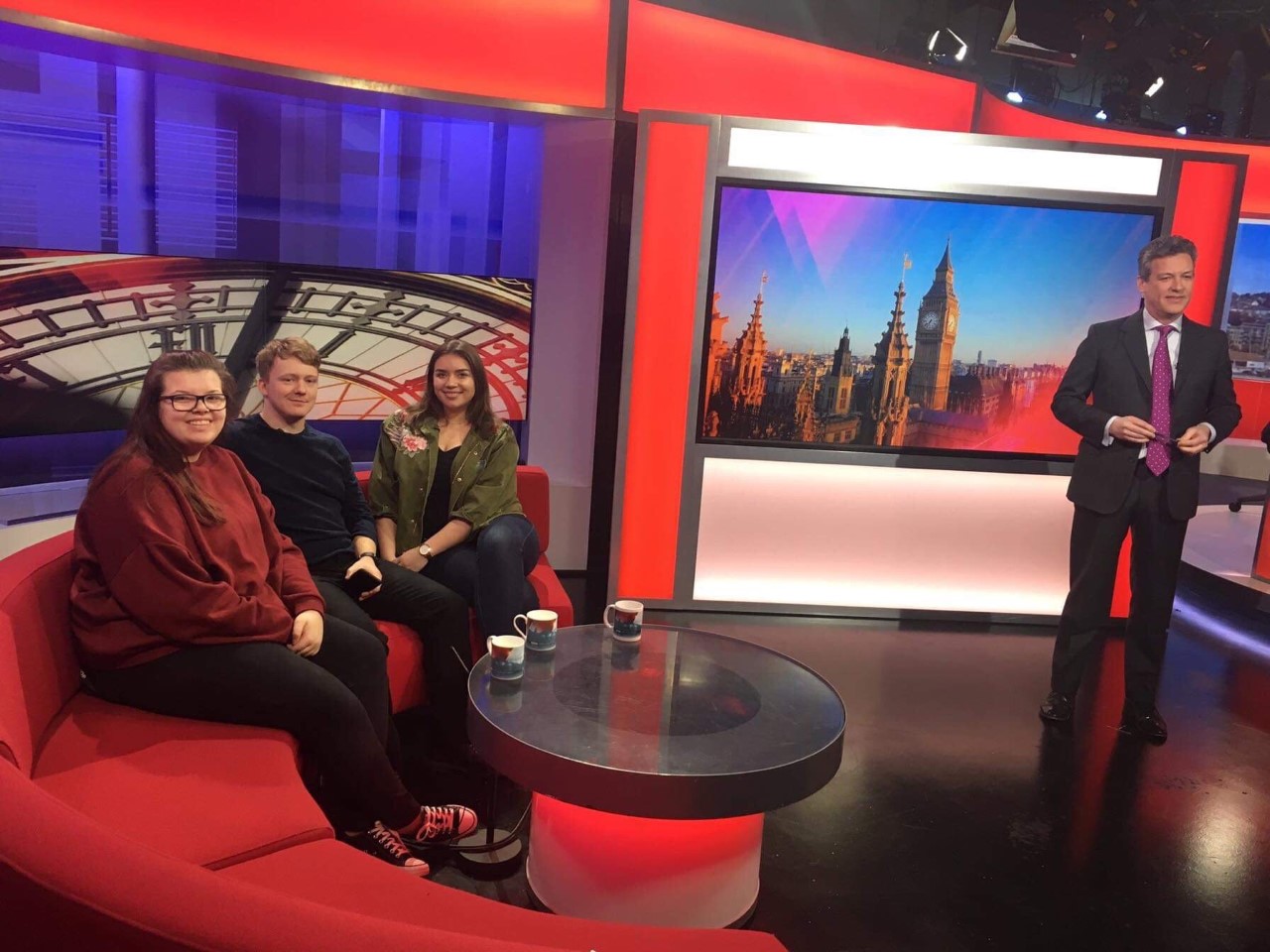 Plymouth Marjon University students appeared on BBC Sunday Politics South West, giving their opinions on Britain leaving the European Union. Initially, the students featured on Spotlight's Brexit Special on Friday evening, but they were asked to talk live on Sunday Politics as well.
Georgia Large, Dael Munn-Tyrell, and Erasmus exchange student Esmée Beurze spoke openly about their views on Brexit live on Sunday Politics South West with presenter Martyn Oates.
Georgia is a first-year Journalism student and Remainer, although she wasn't able to vote in the 2016 Referendum as she was too young.
She said: "When it comes to politics, I think quite often students' opinions are dismissed. People often say that because I'm 18, I'm too young and naïve to have a valid opinion on it, so it was really nice to be asked to give my opinion on such a public platform. I think young people should be given this kind of opportunity more often."
Dael, a third year Journalism student at Marjon, also had his say. He said: "Being a Journalism student helped us to prepare for going on the show, because we knew what to expect.
"I think they wanted to speak to me to get a different opinion to other students, because I don't think it's very common to be a pro-Brexit student."
"We broadcast live news shows from our studio, The Workshop, just next door to the BBC. It was really good fun, and it was good to practise being on live television in a different setting to what I'm used to," Dael added.
Esmée is visiting Marjon for a semester as part of the Erasmus+ project, which is the EU's programme to support education, training, youth and sport in Europe. Its budget of €14.7 billion will provide opportunities for over four million Europeans to study, train, and gain experience abroad.
Mike Baker, Programme Lead for Journalism at Marjon, said: "We work really closely with the BBC in Plymouth, partially because they are right next door to our studios. But it's great they are able to offer our students an outlet to express their views to a wide audience, on programmes such as Sunday Politics.
"I think they acquitted themselves really well. They're used to being on the other side of the camera, so being interviewed live on the BBC didn't prove too daunting for them."
Find out more about Journalism at Marjon.
Back to Marjon News