Released: 28.03.18
It was survival of the fittest for members of the Marjon Recruitment team when they took on the challenge of visiting Year 12 & 13 students at the UCAS fair in Belfast recently.
What started out as a normal recruitment trip turned into an endurance test against the 'Beast from the East' which involved cancelled flights, road closures, rally driving skills, a seven hour train journey and hiking through the snow.
Dan Cole who was part of the team explains, "We knew things might get difficult when the fair was cancelled on the second day due to severe snow conditions, but we never believed that getting ourselves and the stand back to Plymouth would turn into such an endurance test!
"Our trip back started with an icy drive to the airport where our flight to Bristol was cancelled three times. We then decided to get a flight to Gatwick, where we found all rail and bus links to the South West cancelled. Our only hope was a train from Reading which terminated in Exeter.
"This turned into a seven hour journey rather than the usual 2.5 hours and when we arrived we found that all rail and road links to Plymouth were out of action…so our only option was to stay overnight. Unfortunately this meant trudging 3 miles through the snow to the Holiday Inn on the M5.
"Let's just say my shoes have never recovered but it's all in the line of duty when it comes to spreading the word about what a great place Plymouth Marjon University is!"
As well as their memorable Belfast trip, the recruitment team have already covered 5,000 miles this year and will visit a total of 15 UCAS fairs before the end of summer.
Dan adds, "What appeals most to the students we talk to is the community feel of our campus and the small class sizes…..and of course the fantastic lifestyle by the coast and the moors in Plymouth.
"It's also great to give them the option of experiencing life on campus first hand through our fully funded summer schools, which this year included Teaching, Sport and Health and Business.
"We've already signed up one student from Northern Ireland for the Sport and Health summer school ….so maybe our Beast from the East trip was worth it, despite everything!".
See here for more details of Summer Schools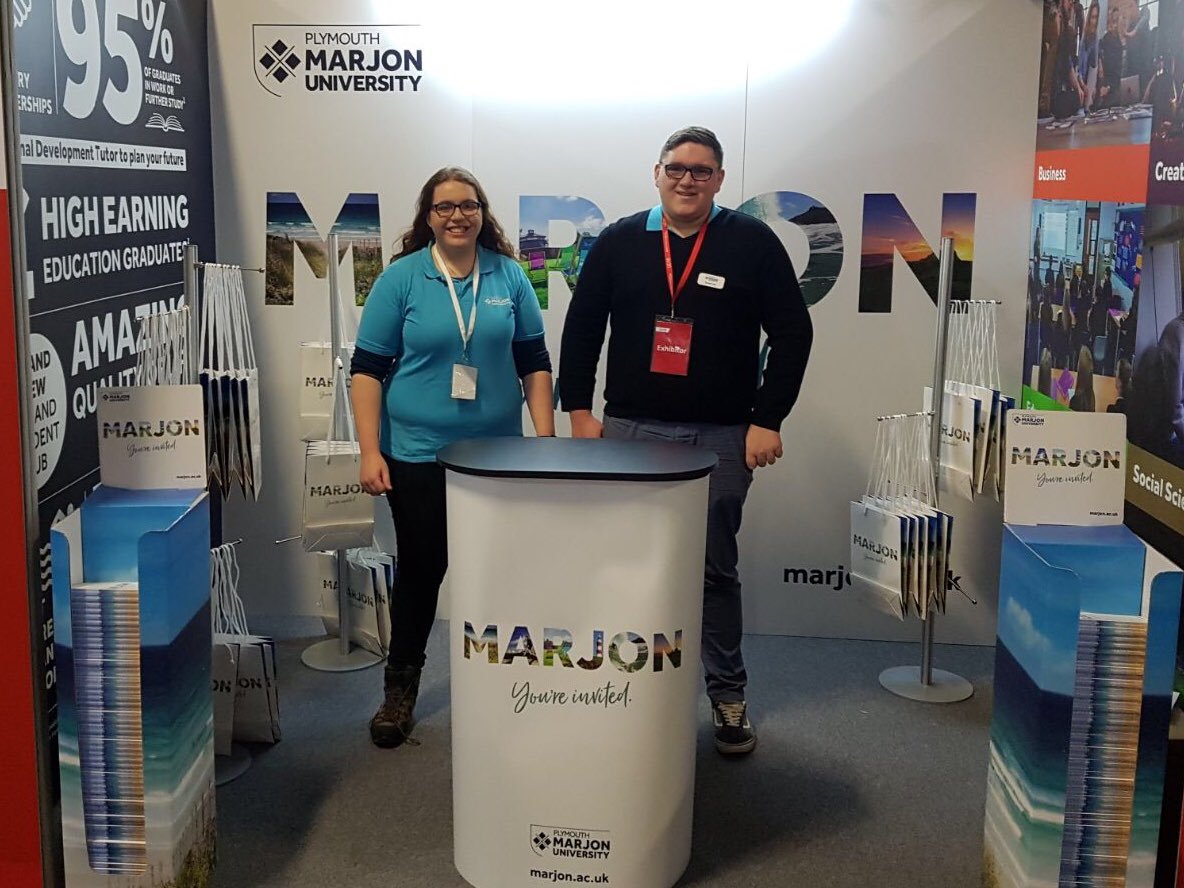 (Above: Brave faces from Anna and Dan)
Back to Marjon News