Released: 19.12.19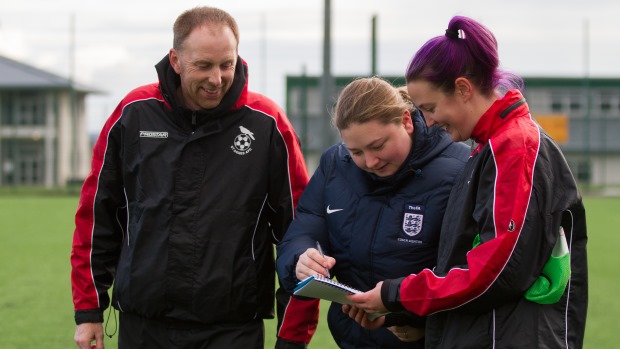 Since her appointment in October this year, Natasha Mills - Coach Development Officer for The Football Association and Marjon, has been working hard to develop a strong network of coaches in the South West.
In July, The FA announced that Plymouth Marjon University would become the ninth Women's High-Performance Football Centre. The FA's Women's High-Performance Football Centre initiative was launched in 2017 in partnership with British Universities & Colleges Sport (BUCS) with eight original centres across the country.
The FA's ambition for the Women's High-Performance Football Centres is to increase the number of qualified coaches and improve the quality of coaching in the female game, which are both central to the growth of the women's game. Plymouth Marjon has taken on this responsibility within the South West, while at the same time providing talented players with an environment to drive their academic and football ambitions.
"Before this job, I worked in further education. designing and delivering bespoke vocational sport-based education programmes, to support young people into employment in the coaching and fitness industry. I have had a variety of roles with the FA, including FA Coach Mentoring, Tutoring as an FA Affiliate Tutor and part of the England Talent pathway as a coach. This job is a culmination of all my previous work" said Natasha.
As part of the initiative, Marjon offer a variety of services such as coaching, sports science and sports medicine alongside scholarship opportunities. They also have a focus on creating the next generation of the game's behind-the-scenes workforce, including volunteers, administrators and development staff, and Natasha is a big part of that.
One of Natasha's primary aims with this project is to recruit, develop and deploy female coaches in women's football, which will form an organic support and progression network for players in the region.
"Sport is a powerful tool, helping to build soft skills that are essential in other areas of life. My passion is supporting and developing coaches on their coaching journey, which in turn will help make players fall in love and stay in love with the game"
"This job gives me the opportunity to work in the field, where I'm able to build an essential support and development network for current players. My overall goal with this project is to try and inspire and support the existing and next generation of women's coaches in the female game. It is an exciting time to be in the women's game and I am pleased to have the opportunity to support and drive this" said Natasha.
The programme officially launches, and will be delivered from January 2020 onwards.
Find out more about BA (Hons) Football Development & Coaching at Marjon.
Find out more about FdA Sport Development & Coaching at Marjon.
Back to Marjon News