Released: 21.12.15
University of St Mark & St John Sports Development student Ben Proud smashed 4 British swimming records at the ASA National Winter Meet in Sheffield this weekend. Ben's performances marked him out as one of the leading contenders for medals at the 2016 Olympic Games.
Ben broke 46 seconds for the first time, beating his own record in the men's 4x100m freestyle with 45.97. He set British records in the individual 50m freestyle, 100m freestyle and 50m butterfly too.
Ben studies Sport Development at the University and trains with Plymouth Leander Swimming Club. Our assist talented athletes like Ben to continue with their sporting careers without compromising their education.
Professor Andrew Edwards, said: "Ben is an outstanding athlete and all of us at Marjon are very excited at his prospects of Olympic success. As one of our elite sports scholars, he has made a really meaningful contribution to our University and reflects our commitment as a leading University of sport. With our Sport Science research team examining optimal heat acclimation techniques for the Rio Olympics, it is our aim to support Ben both as a student and athlete."
‌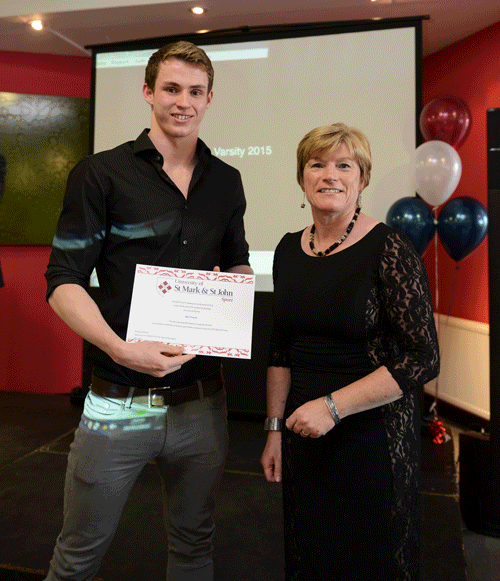 Image: Ben Proud receives a University Sports Award from Vice-Chancellor Cara Aitchison in 2015‌
Back to Marjon News