Released: 18.01.17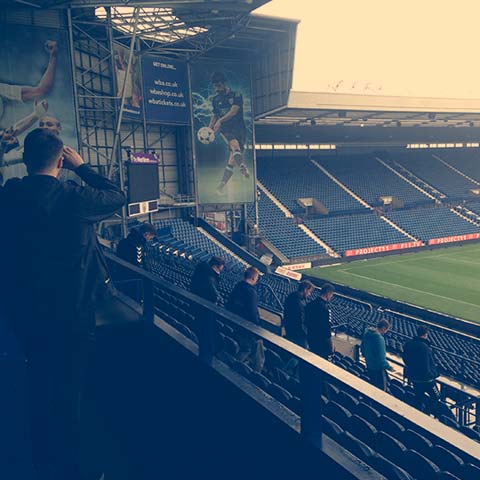 STUDENTS on the Football Development & Coaching programme visited West Bromwich Albion to gain an insight into how Sport Development and Academy coaches work.
They met Sport Development Manager Dave Lawrence, who took them to a Directors' box inside the ground, where they spent time discussing Sport Development and Education.
The students had a behind the scenes tour of the club, banquet halls, corporate boxes, pitch, officials room, players' tunnel, home and away changing rooms, and learned about the history of the club.
After lunch, they visited one of the educational centres with privileged access to a West Bromwich Academy and education coach delivering a session to the post-16 education Programme.
The Marjon students took notes and asked questions during the session. At the end, the coach shared his session plan and aims with the group, providing the students with fantastic experience of coaching in a real-life setting.
Degree programmes at Marjon are designed for students to gain first-hand knowledge of their subject.
Argyle Community Trust would like to thank Dave Lawrence, his team of coaches and West Bromwich Albion Football Club for their time and support.
Love football? Study BA (Hons) Football Development & Coaching with us
Back to Marjon News